Chinese Proficiency Test (HSK)
Description
Chinese Proficiency Test (HSK), an international standardized test of Chinese language proficiency, assesses non-native Chinese speakers' abilities in using the Chinese language in their daily, academic and professional lives. The new HSK consists of a writing test and a speaking test, which are independent of each other. There are six levels of writing tests, namely the HSK (level I), HSK (level II), HSK (level III), HSK (level IV), HSK (level V), and HSK (level VI). There are three levels of speaking tests, namely the HSK (beginner level), HSK (intermediate level), and HSK (advanced level). During the speaking test, test takers' speeches will be recorded. You don't have to undergo the HSK tests in level order, instead, you can choose any level at will. Test takers will receive the results for the new HSK issued by Hanban within three weeks after the test.
This course is meant for individuals who are looking to
attend a university program taught in Chinese
apply for an HSK/Confucius Institute scholarship
be licensed or certified in a particular field (teacher, translator, interpreter, tour guide…)
demonstrate your mastery of Chinese for employment purposes
apply for a work permit/visa to work and live in China
benchmark your progress in Chinese learning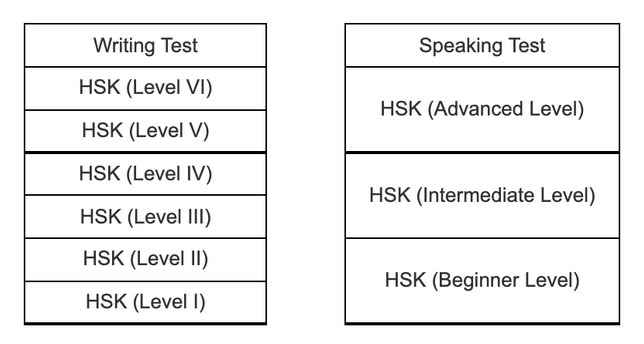 What Will I Learn?
Mastery of core level topics
Unique question-specific strategies
Exam techniques practiced through extensive question practice and personalised feedback
Time management strategies
An applied understanding and appreciation of the language
HSK (Level I)
Test-takers can understand and use very simple Chinese phrases, meet basic needs for communication and possess the ability to further their Chinese language studies.