Bhavya A has a Master's degree in Clinical Psychology from Amity University and a Bachelor's degree in Applied Psychology from Gargi College, University of Delhi. She has over 800 hours of experience in individual, and parenting counselling. Apart from this she has received an intensive training program in clinical fieldwork, conducted Research on "Effectiveness of Trauma-Informed Compassionate Care in Enhancing Resilience, Self-Esteem, Self-Efficacy, and Well-Being in At-Risk Adolescent Girls" and has first-hand exposure to psychological testing. She has worked with a diverse range of clients having concerns around, parenting, anger management, adolescence concerns, stress management, career, life skills, and emotional regulation, among others.
Bhavya truly believes that it's not one's life that brings one perplexity but rather one's life situation – which can always be looked at from a different lens. She also believes that her clients have the abundant potential and capacity to create a meaningful and long lasting change in their lives. She aims to assist them in their journey of finding their own solutions and ways of coping. In her practice, she uses a collaborative approach where her clients first get a safe space to develop their trust. She says that a good client-therapist relationship makes a strong foundation for further exploration, discussion, and challenging of negative thoughts and feelings. Although Bhavya understands how listening and acknowledging feelings of her clients optimises therapy, she equally realises the importance of empathetically challenging her clients, and assisting them in their healing and transformation.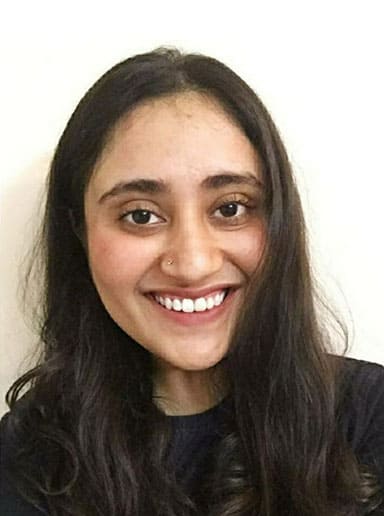 This is the first time that I am taking a counselling session and the experience has been really good till now. Got to see another perspective of life and myself which I was missing out on.
Karthik, 4 sessions
Karthik, 4 sessions
She has made me a better person with a better thought process. I started focusing on myself only after hearing her sessions. I realised the value of caring for ourselves in the process of healing only through her sessions. She has made me a cool person, else I was anxious earlier. She made me pause and respond. Best life changing experience and learning from her.
Priya, 40+ sessions
Priya, 40+ sessions
Very friendly and practical approach. Insightful. I have been a lot better and my thought process has become clearer.
Angela, 4 sessions
Angela, 4 sessions
I am extremely happy and satisfied with Bhavya. She has helped me understand myself better, she has guided me with many things and she brings a new perspective to the table and makes me question things so that I'm able to realise things I would not have realised before. The way she guides the session is gentle and understanding and she does it so effortlessly wherein you feel like you have made certain realisations yourself but it is her guidance and questioning that has made you get to that stage. I am very grateful to Bhavya and I admire her wisdom and intelligence. She is the best counsellor ever, I truly am grateful to have her as my counsellor.
Joanna, 60+ sessions
Joanna, 60+ sessions
Bhavya possesses great knowledge on the subjects I have discussed with her. The flow of talk with Bhavya has been extremely seamless. Sessions with Bhavya are no pretense and I feel I can talk to her just about anything and she clarifies the points with different perspectives. Thank you Bhavya!
Arnold, 12 sessions
Arnold, 12 sessions