IB Dance
Description
With a range of subject choices and additional compulsory subjects, the IB Diploma Programme (IBDP) is a complete package that brings to students various facets of learning. Subjects not just ranging from science to arts, but also touching upon Film, Theatre, Dance, Theory of Knowledge, and so on guide and prepare students, between 16-19 years of age, for success in university and beyond.
The IB Diploma Programme aims to provide a safe yet academically challenging place for students to become knowledgeable, compassionate, curious, and interculturally understanding adults. With multiple language options and subjects like Global Politics, students are given a credible platform to learn through the lens of other cultures.
Dance isn't just something you do, it can also be something to read and study about. The IB Dance course is designed with the same intention, by taking a holistic approach to dance – which encompasses various traditions and cultures, making each dance form unique and beautiful in its own way. It does not limit itself to contemporary dance forms, but also embraces the past, looking ahead at the future of dance. During the course of this programme, students develop performance, creative, and analytical skills that are valuable both for written papers as well as the practical application: of creating/performing dances.
This course is most suitable for those students who wish to pursue dance as a career option – as a choreographer, dance scholar, performer, or even as someone who wants dance to enrich their personal life. Sign up for a complete understanding and application of this beautiful art form.
Here's the assessment outline for IB Dance: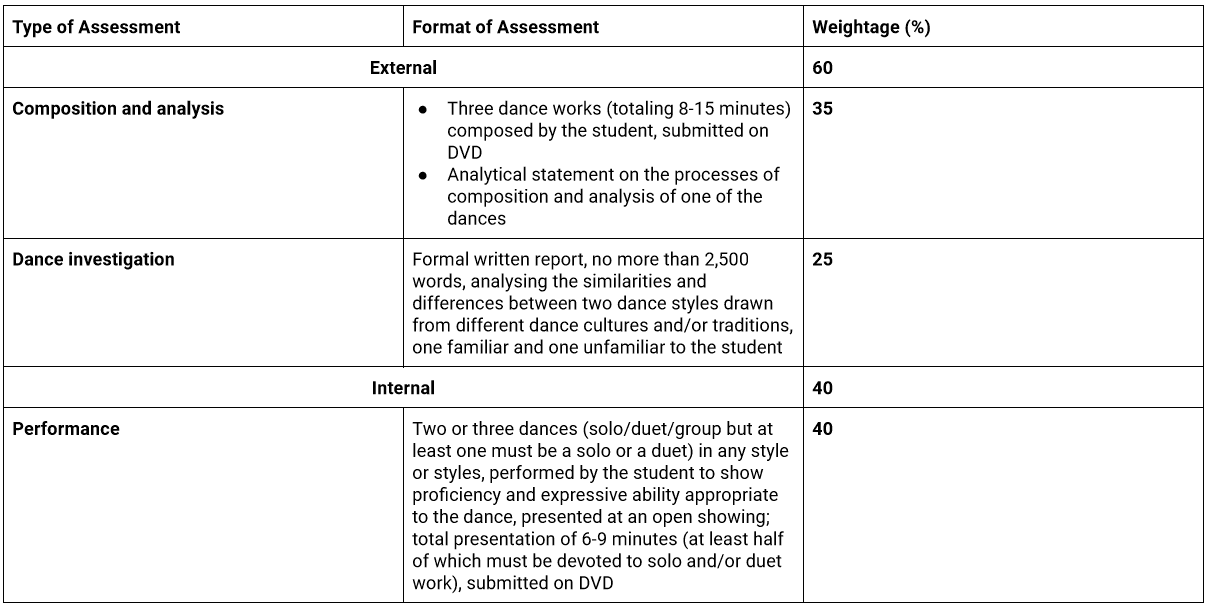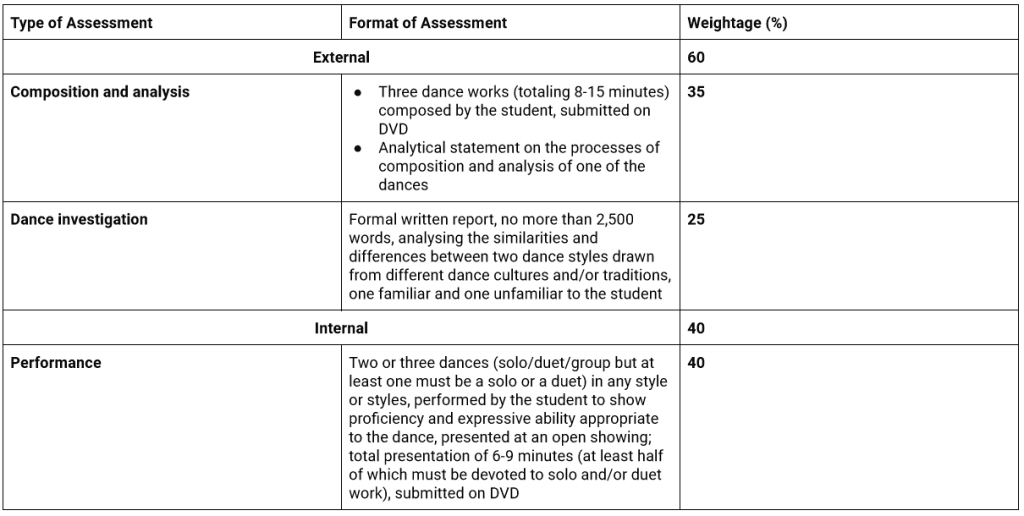 Official Course Page
Head over to the official IB link for access to read further.
Paper Marking
We also offer paper marking services for this course. Having your practice papers marked will help give you a clear idea of where and how to improve. Please click here to know more.
What Will I Learn?
Mastery of core curriculum topics
Unique question-specific strategies
Understand the histories and theories behind dance forms
Appreciate and understand the mastery of dance styles along with their traditions and cultures
Use dance form to create and converse in dialogue form in te school environment and society at large
Exam techniques practiced through extensive question practice and personalised feedback
An applied understanding and appreciation of the subject beyond the syllabus
Lifelong subject and interdisciplinary skills
Composition and analysis
The development of the creative aspect of making dances
World dance studies
The development of a comparative knowledge of several dance styles from more than one culture and/or tradition
Performance
The development of an understanding of and facility in performing dances