Lumiere Research Scholar Program
Description
Young Scholarz is excited to announce its latest partnership with Lumiere Education. Lumiere is an organization founded by Harvard and Oxford PhDs with the aim to provide high-school students around the world the access to research opportunities with top global scholars. Through the "Lumiere Research Scholar Program", students work 1:1 with PhD mentors from the world's top universities on their independent research projects. For 12 weeks, students work with their mentor to explore the cutting edge in their field. Then, they build a research paper that they develop from start to finish, with their mentor providing guidance and feedback.
Why do Research Work when in high-school?
You'll get to explore your academic area of interest in-depth or discover new interests
You get the chance to create an independent research paper which could be published
You'll stand out in the admissions process! Showcase your passion and provide proof of depth of your abilities
Build relationships with PhD researchers from top universities
Build critical thinking & problem solving skills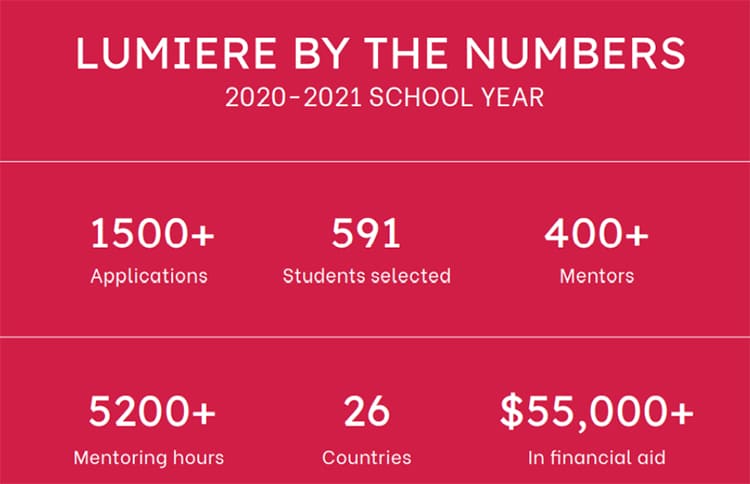 How do you apply?
Fill out an online application before the deadline
Shortlisted students will be scheduled for an interview
Selected students will be matched with a mentor in their area of research interest
Start the program!
Our Mentors: Over 400+ mentors from top universities
Columbia University
Princeton University
The University of Chicago
Cornell University
Massachusetts Institute of Technology
Harvard University
UCLA
Brown University
Yale University
University of Oxford
What Will I Learn?
Week 1: Meet with mentor and align on a topic
Week 2-4: Explore the topic and identify research question
Week 5-9: Write research paper with support from research mentor and writing coach
Week 10-12: Make final edits and submit paper for final evaluation
After Week 12: Graduation ceremony and symposium! Students in the Premium Research and Publication Program will continue to meet with their mentor and submit their paper to a journal for publication
STEM
Data Science
Physics & Astrophysics
Biology
Computer Science
Neuroscience
Medicine
Chemistry
Engineering
Mathematics
Architecture
Humanities and Social Sciences